bmobile focuses on fiber optic and wireless broadband technology
e-Tender leads in digital procurement services.
Port-of-Spain, Trinidad –  October 4, 2018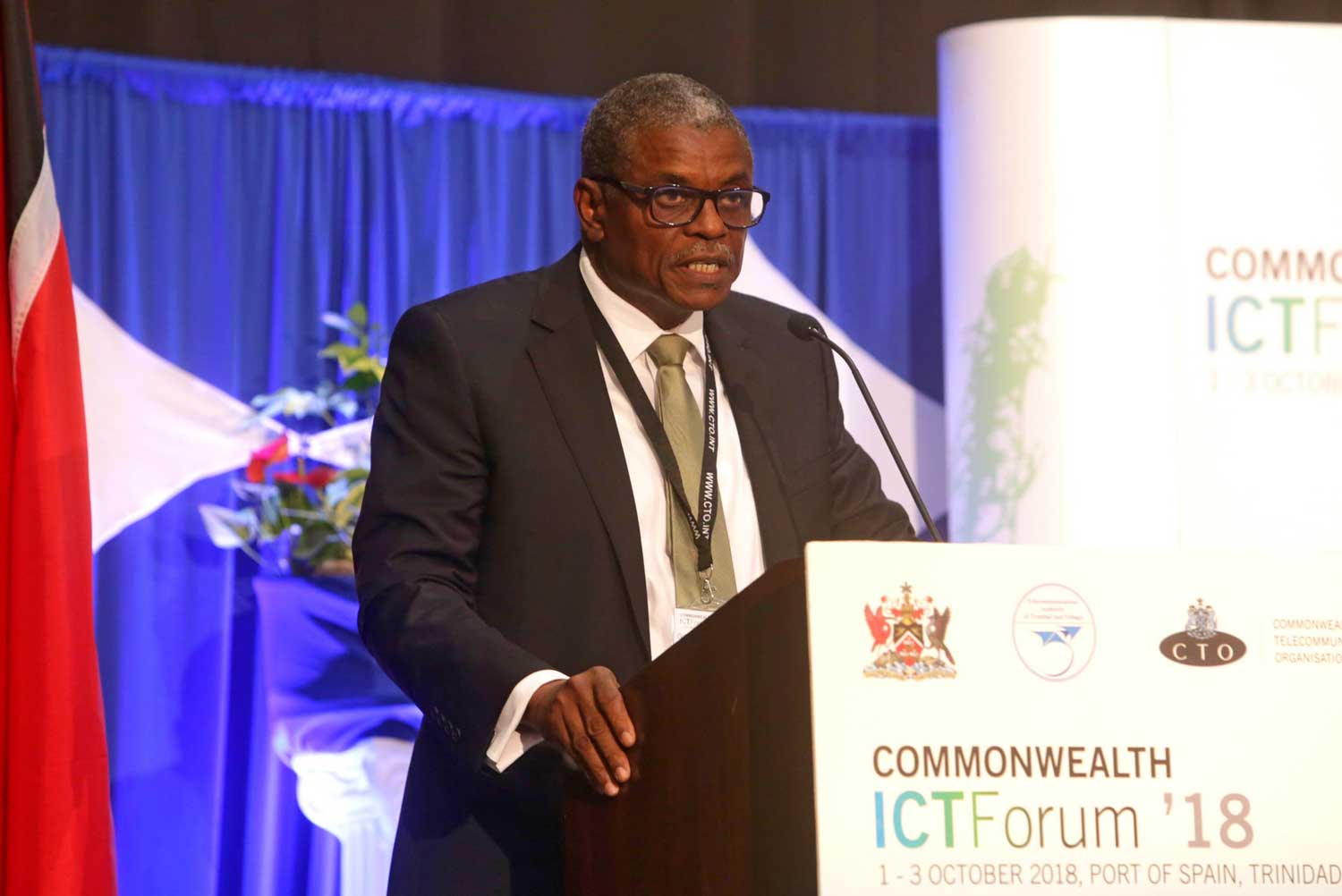 Gilbert Peterson SC -Chairman of CTO and TATT
The path to TSTT becoming an agile broadband company is being cleared with a major investment in fiber optic and wireless broadband technology that can serve over 80% of the residential market. This was disclosed by TSTT EVP Strategic Alliance, Enterprise and Tobago Operations Rakesh Goswami during the opening ceremony of the annual Commonwealth Telecommunications Organisation (CTO) ICT Forum hosted by Telecommunications Authority of Trinidad & Tobago (TATT) and CTO at the Hyatt Regency Trinidad on October 1st. bmobile was the Diamond Sponsor of the 3-day forum staged under the theme "Digital Transformation For Development: People, Processes and Technology".
Goswami stated that bmobile's ongoing digital transformation includes the removal of over 5,500 km of copper throughout Trinidad and Tobago and a significant investment in fiber optics and wireless technology. "This will cover 340,000 homes or 80% of Trinidad and Tobago over the next 2 years." The initiative is part of TSTT's Zero Copper campaign which CEO Dr Ronald Walcott launched last week. "CEO Dr. Ronald Walcott, launched the Zero Copper campaign in which plug and play wireless broadband technology would be deployed to serve customers and in the process we will remove aged and unreliable copper infrastructure. The new technology, called Wireless To The X or WTTX, is not as labour intensive to deploy or manage, and allows bmobile to cost-effectively bring broadband, video and voice services to rural and underserved areas using 5G ready technology. Apart from the obvious business goals, we also hope to make this technology empower innovation and entrepreneurship and contribute to the country's overall development."
Gilbert Peterson SC Chairman of both TATT and the CTO in his address noted "The Internet of Things (IoT), big data, Fin-Tech and the introduction of 5G mobile services are just some of the advancements in telecommunications which offer greater connectivity than ever before, ushering in a new era in the industry to transform consumers' lives and our respective societies." The Chairman stressed the need for the telecoms industry to develop cost-effective solutions even as stakeholders moved to expand telecommunications.
Goswami indicated that the telecoms industry will continue to face challenges as competition and regulation exerted pressure to be extremely cost effective and customer service driven. "For bmobile's part we have developed new software systems and processes to speed up service fulfillment and provide quality assurance while being much more efficient with resources. Prior to that, bmobile's digital transformation also entailed creating new online self-help services for bill payment and account management and using network technology to decentralize retail operations from 10 bmobile-owned stores to over 85 geographically dispersed channel partners providing all of the same services. He noted that although digital transformation was disruptive, "I am glad that this Commonwealth ICT Forum has reminded us that digital transformation, when done right, has beneficial consequences for people, processes and technology."
Selby Wilson, Telecommunications Consultant at the Caribbean Telecommunications Union (CTU) and former TATT Chairman, delivered the feature address and stressed that the role of people and leadership were two critical components necessary for digital transformation. "When we talk about technological change, whether it's the Internet of Things, big data or machine learning, it's really about transforming organizational cultures. We need visionary and democratic leadership which will liberate talent and harness diversity within the organization. We must make our customers and other stakeholders the centre of our focus."
Also on the opening day, Keino Cox, TSTT's Vice President, Supply Chain and Enterprise Portfolio Management discussed the internal changes made to bmobile's procurement management system since 2012 to support the company's digital transformation. "At that time, with around 16,000 purchase orders and over $1.5B spent annually, our procurement function was a very manual and costly exercise. We needed to change our business model, create new revenues and add value." Cox explained that bmobile moved to an online procurement system, 100% developed by internal staff, which generated huge cost savings, used international standards for security and functionality, and was compatible with the requirements of the new procurement legislation. "bmobile's e-Tender Platform now has over 3,000 registered users from over 129 countries and generates independent revenue streams for the company due to agreements with the National Information and Communication Technology Company Limited (iGovTT) and other companies which also utilize bmobile's e-Tender platform."
Request a Demo